Ok well I mean to help people get more active around here so I will start topics like this now.
I just want to ask what are people's favorite shows on TV around here?
I enjoy a variety of shows but mainly I watch adult swim at night.
I love Family guy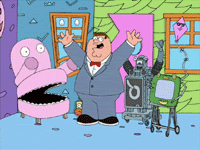 and Futurama for great comedy shows and then some of the anamie shows such as Fullmetal Alchemist and Paranoia Agent for more action/dramatic shows.
anything else I watch is rather random and sparatic as I don't watch TV all day but catch a show here and there.